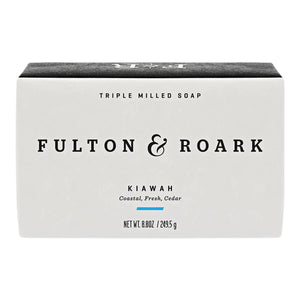 There's a paradoxical feeling one gets from staring at the ocean. Surveying the immense power and chaos of waves crashing on the shore somehow lends a sense of peace.

Our fragrance Kiawah is also a study in dichotomy, with the warm scent of Virginia Cedar blending perfectly with the crisp scent of cool ocean tides. The combination is accented with clean Citrus and smooth Amber.

The resulting fragrance is both assertive and understated, seemingly growing more complex as you wear it.

Inspired by the island off the coast of South Carolina famed for its fresh air, beautiful beaches, and fascinating history, Kiawah is the perfect fragrance for every season.
INGREDIENTS:
Sodium Palmate
Sodium Cocoate
Water
Glycerine
Shea Butter
Cocoa Butter
Olive Oil
Grapeseed Oil
Kaolin Clay
Seaweed
Fragrance